How does PRANA work? The way traditional magic has always worked!...
With very little time and effort, the Prana Talisman can provide its owner with the inner power to achieve any positive goals that they wish, however ambitious! Centuries of wisdom, knowledge and practice have percolated down from the scholars and mystics of the ancient world, and now their legacy can be revealed and offered to you, in the form of the Prana.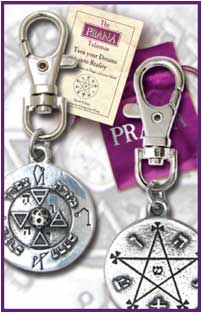 Here is the most important aspect; the Prana will remain nothing more than an interesting metal pendant displaying some curious and mysterious-looking symbols before it is first activated, or consecrated. However, once properly and personally consecrated, it will be transformed into a real and powerful talisman dedicated to helping you to achieve the success you desire. Just as with a brand a new car, which would first need fueling and then purposefuly driving in the right direction before it could actually deliver anyone to their destination, the Prana disc will need charging with both your own positive mental energy as well as the earth's natural forces, and then focusing on your personal goals before it can succeed in achieving them. Consecrating your Prana takes only a few, but priceless minutes. Anything can be achieved with enough self belief and determination, providing it is humanly possible. Prana is the truly magic catalyst that will assist you in achieving your most ambitious goals and desires. Once your Prana has been effectively consecrated, or 'tuned', in just the way a TV antenna collects and converts invisible signals and then broadcasts them as a clear picture, it will collect and magnify all the available natural, positive forces along with your own psychic energies, and then channel them straight towards your personal goals.
You will feel physically and mentally stronger and energised. Confidence will brim within you and you will feel a potent force rise inside, discovering new personal powers and becoming sharp and decisive. You will intuitively recognise opportunities as they appear when previously they went-by undetected; you will feel 'lucky'!
Instead of stuff just happening around you, you will be able to make things happen!
Each PRANA talisman comes with its own 12 page booklet of easy instuctions and is supplied in a purple satin pouch.
. . I think that Prana talisman is working as I have been creating and drawing nonstop and with new confidence... unbelievable...
Ms DN, London
Hey… I just wanted to let you know that the talisman is amazing! Thank you! Since I had it, work has been coming in, I feel great and everything seems to be getting better! 
Ms NJ, Leicester
The Prana Talisman is now available to buy from our website "Member's Shop".
- PRANA Original - £9.99 each
- PRANA Deluxe Crystalised Edition - £14.99 each
For further product information please visit: www.PranaTalisman.com
Christmas / New Year Raffle
Winners:
#1 JungleGoth
#2 DiesIrae666
#3 snow.wulf

With the following runners up.
demonica66613
cerberus1618
nikki369
DkStarr
Rubyred
flaviusboncea
anansi

 

1st prize
October Raffle
Winners:
#1 Gabriel Grendge
#2 Venom84
#3 frederic

With the following runners up.
Ratsmitglied
sleeper
Geirrarr
Chiron
Luvietje
deakon.frost
queenofthecastle

 

1st prize
July Raffle
Winners:
#1 vampyvicki
#2 Verminaard Draconis
#3 veronyka821

With the following runners up.
metaller
LoneArcher
Blackness13
NIFER
kaltasos
Vigdis
The Wretched Spawn

 

1st prize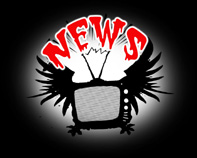 We have now completed the maintenance work on the Alchemy Gothic website.
Access to the forum has been restored and new user registrations are now possible.
Thank you,
Alchemy