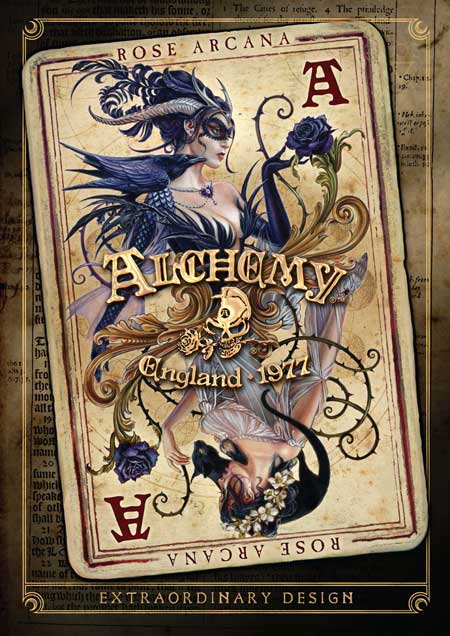 A Desiccated petal, fallen from the garland of history.
From the highest shelf of a low and claustrophobic warren of an unremarkable secondhand bookshop, a small, mouldering leather-bound bible tumbles down. Between the pages of Deuteronomy 18:9-12 lies the solitary relic of a hand painted card.
Subsequent research reveals this to be a rare surviver from the tarot deck commissioned by the Earl of Ravenspurgh in the late 17th century and widely thought to represent his wife, Lady Kamila, the Countess of Ravenspurgh. The Earl, who possessed a keen interest in the arcane, was known to be passionately and assiduously devoted to his beautiful and eternally youthful consort, despite her notoriety in the local belief that the Countess possessed both schizophrenic and nocturnal tendencies. An irrepressibly dedicated gardener, Kamila was said to have cultivated her own species of rose of the purest, midnight black, a bouquet of which she personally presented at court to King Charles II
We are a small, fervent team of artists, craftsmen and service crew and we are happily, newly based in our magnificent 18th century mill, outside Leicester, England. From our low beginnings in a one-room bedsit, and after 40 years of belonging to the Alternative Community and privileged to be designing and manufacturing treasures that we can all wear and use, we are humbled by your support, to which we owe our continued existence. Thank you on and all for your enthusiasm towards Alchemy and everything that we enjoy doing; we hop that we will never let you down and that we will be able to satisfy your wishes far in to the future.
Gratifyingly yours,

The Alchemist