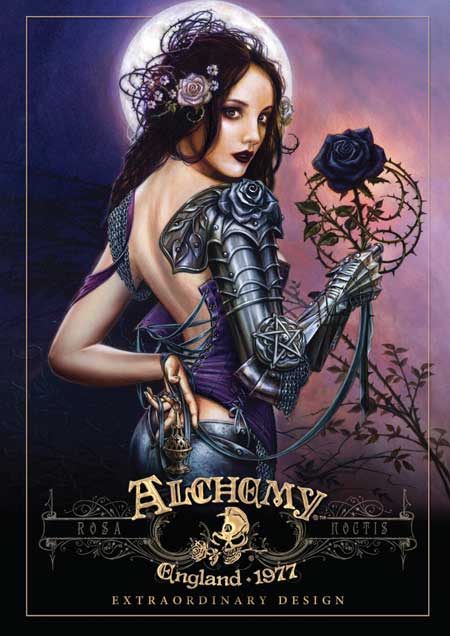 The paradigm of virtue, perfection and honour, as mystical and as rare as the eponymous black rose of the night, of which there is only one, and blooming just once, on the rise of the Rose Moon of June. Painted on board, in the true Pre-Raphaelite traditions of mediaeval romanticism, natural realism and spiritual integrity instilled by the likes of Millais, Hunt, Rossetti and Dilley, the Rosa Noctis radiates the principles of a wondrous and magical era.
The words 'Thank You' are simply inadequate to properly express our appreciation of all of our customers and fans, everywhere, for supporting Alchemy since 1977 and giving us the opportunity to express and enjoy ourselves in our efforts to create the things we love. We know that we are in a minority and that we are often misunderstood, but we believe that our darkly mysterious community is special. And we enrich each other and society in general with our Delphic notions, our arcane activities and imaginative expressions - the World would be a very dull place without you! So, 'Thank You' all.
And while I have voice, I sincerely have to applaud all of the wonderful, passionate managers and staff, the uniquely skilled artisans and the immensely talented and dedicated artists, model makers and creative genii of the Alchemy crucible for the continuing successful development of this irrepressible tradition, and now a great institution.
Salute!

The Alchemist