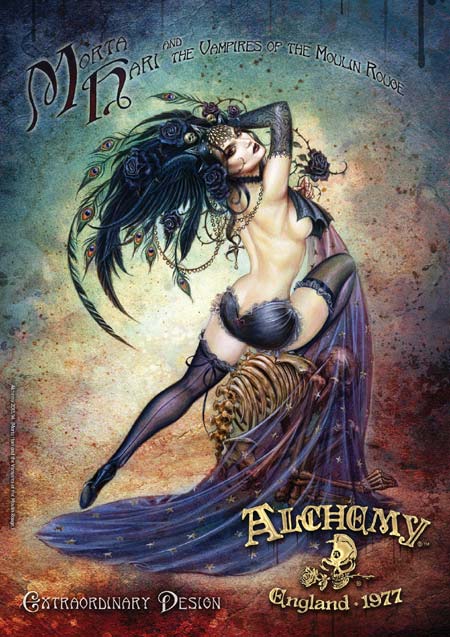 Following Dracula's ill fated endeavour to colonise London in 1893, he successfully solicits and infects the most beguiling courtesans of the time, in an audacious attempt to infiltrate its greatest rival, Paris.
Greetings, and congratulations to all you distinguished, extraordinary people !
Thank you for following our enduring development - continuing our ulterior story from 1977. 'Alchemy England 1977' is now the panoptic branding for all of Alchemy's alternative lifestyle design innovations, which is always the real 'us', and closest to our hearts ... (we design and make things for others, too !). Once again, it is all displayed here for you, together in this one volume.
This year's cover story is 'The Vampires of the Moulin Rouge', a more sexy vision of decadence and seduction I defy any red - blooded person to imagine. And tantalisingly, it is this suggestion of dark fantasy that has, of course, influenced Alchemy's latest innovative collection of unique, original jewellery, accessories and giftware; (we design it, others imitate it !).
For those interesting and daring enough to be seen and singled out from the crowd in eloquent style, which probably is all of you browsing this digest, or who may be looking for that awesomely different gift to be remembered for, our stunning new range of around 50 original Alchemy designs will almost certainly include at least one 'must-have' piece and some 'antiques' of the future.
Again, after 35 years, and many of you being original Alchemy customers, we would like to stress our serious and eternal gratitude for your loyal support, and assistance in developing our collections in what Alfred Wallace might call 'evolution'. We owe you our existence and will always be grateful.
We also owe our existence to Alchemy's immense and irreplaceable staff, in all areas, from skilled artisan to loyal sales exec, and hope that you all join us in showing our appreciation for their dedication.
Salute !