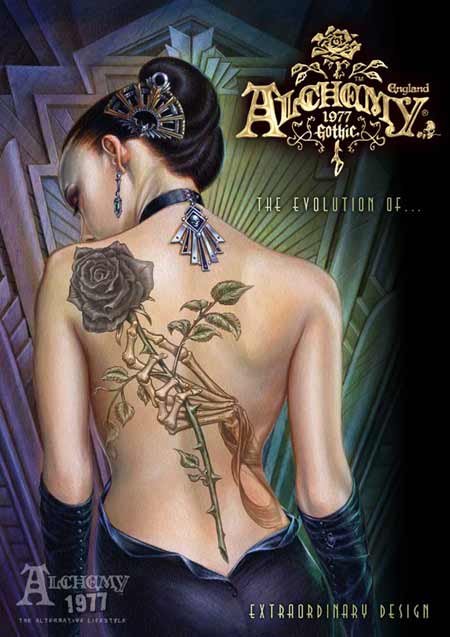 Our loyal and long-term followers will not have failed to notice the temperamental change in the general appearance of this, our 17th, dedicated 'Alchemy Gothic' catalogue - the latest step towards aesthetic transcendence. Prior to this and since 1984 the original collection was established as 'Alchemy Metal-Wear' ; born in the Dark Ages and of the ancient fires of Weyland's forge - times change, and with it, the evolution of extraordinary design.
'Deco Gothique' is the latest development from Alchemy Studios' creative minds; a unique fusion between the exotic, classic 1920's vintage paradigm and the dark recesses of cognitive morbidity. Now, Alchemy 1977, the UK's all-round alternative lifestyle couturier, offers you its experienced creative craftsmanship and a much enhanced choice to assist you to refine and indulge your own personal tastes.
By popular demand 'Alchemy Gothic', per-se, has developed and moved-on to create the World's most original, exciting and sophisticated, alternative fashion jewellery, as you will discover within! Old-school, hard core metal and noise, however, has not been neglected; flip the alternative culture coin, and this year Alchemy is celebrating the spectacular restoration of its classic, testosterone-charged Alchemy Metal-Wear collection, with a classic new catalogue of metal-focused accessories including a host of brand new hard and edgy designs. The Alchemist has a rendezvous with the past...
Immense thanks go to our tremendously talented, hard working and conscientious gang of artists and designers, production craftsmen and the whole, brilliant team that gets Alchemy out to our customers, for their extraordinary vision, dedication and determination. Alchemy will continue to grow, prosper and provide all the best that can be made as long as these heroes remain at the helm.
Again, we have of course to express our deep appreciation to our amazingly intuitive and supportive followers and customers, for whom we love to dedicate our existence.
Best regards,
Amzer
(spiritual doyen of Alchemy)