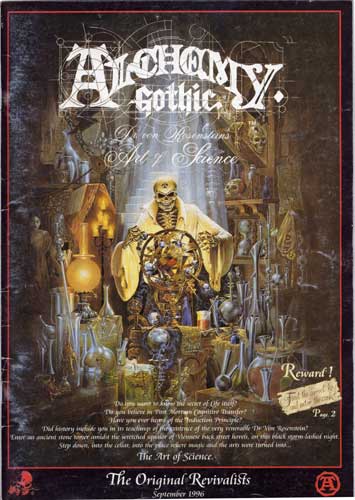 Do you want to know the secret of Life itself?
Do you believe in Post Mortem Cognitive Transfer?
Have you ever heard of the 'Induction Principle'?
Did history include you in its teachings of the existence of the very venerable Dr von Rosenstein?
Enter an ancient stone tower amidst the wretched squalor of Venezia's back street hovels, on this black storm-lashed night. Step down, into the cellar. Into the place where magic and the arts are turned into...
THE ART OF SCIENCE
Greetings, students and observers of the hermetic sciences.
Welcome to this most recent chronicle of developments in the secret history of man and his eternal struggle for the achievement of the higher state, through the reciprocal maturity of the Lost Arts.
You will find within, many strangely beautiful artefacts, legacies of the toils of the devout servants of the Pandectes Philosophiae. These bountiful treasures are now yours for the asking, and it is to my loyal and dedicated retainers and talented artisans that I offer our heart-felt gratitude, and to you, our extraordinary sagacious initiates and patrons, that we extend our respect and appreciation.
Yours, en sobriquet, for ever and ever,
The Alchemist.