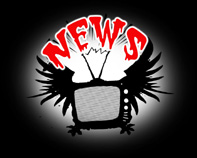 BAD ASS MICROPHONE STAND TO TAKE CENTER STAGE AS FIVE FINGER DEATH PUNCH KICK OFF THEIR TOUR THIS JANUARY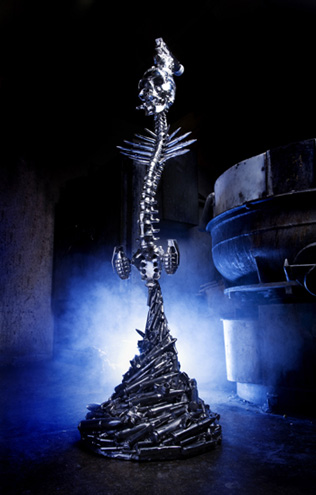 WEIGHING IN OVER 180 LBS THIS CRAFTED STEEL IS THE LATEST CREATION FROM THE ALCHEMY STUDIOS (Leicester, England)
All hell breaks loose this January thanks to Alchemy Studios latest and most adventurous sculpture. LA metal band Five Finger Death Punch has commissioned the UK gothic design house to create a microphone stand like none other in the world and it will be unveiled in Anaheim, CA on January 21st.

Stainless steel strength and Metal music are fused together forever on this tour. Singer Ivan Moody will attempt to harnesses the energy of this rock centrepiece as he roars at the 5FDP mob from his underworld pulpit.
The microphone stand weighs in over 180 pounds and is the latest creation from the Alchemy design team who has been creating merchandise, art and alternative jewellery since 1977. Their extensive gothic insight and sensibilities was a perfect match for the metal music scene. Five craftsman working over 120 hours collaborated on the piece, and the final result is pure beauty.
This is a serious mic-stand that will dominate till the end of time. It screams. STAND UP, FISTS UP.THIS IS METAL!
For more pictures visit the gallery at : Photos: Alchemy Limelight.