Founding Members of the Hellfire Club (date unknown).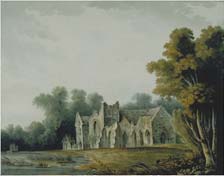 Medmenham Abbey by
Louis Belanger (1971)
Debauchery; scandal; the lowest levels of depravity and excess.
Such things have been inextricably tied to the inner circles and darkest corners of high society since time immemorial – entire governments with strings manipulated by individuals of great power and persuasion behind closed doors, tainted by vice and immorality; and the origins of the infamous Hellfire Club are no exception.
The club first found its footing in the early 18th century, as the burgeoning innovation and free thinking of the Enlightenment era truly took hold and formed roots of inspiration in the minds of the masses.
Although the very first Hellfire Club was founded in London in 1719 by the drunkard, riotous Philip, Duke of Wharton, it is his successor, chancellor of the exchequer Sir Francis Dashwood, whose gathering of Britain and Ireland's most esteemed 'persons of quality' is most well known.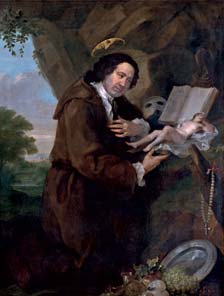 The Founder of Hellfire
Sir Francis Dashwood at his Devotions
by William Hogarth, circa 1750
Intended as a satirical mockery of the genteel gentleman's clubs pervading London at the time, Dashwood bought the grounds and subterranean caves of Medmenham Abbey in 1746 and transformed them into a hedonistic playground of transgressions for the wealthy; excesses of food, drink and women, not to mention rumoured blaspheming, Black Masses, Satanic rituals and paganism, sacrificing publically to Bacchus and Venus – gods of very earthly pleasures.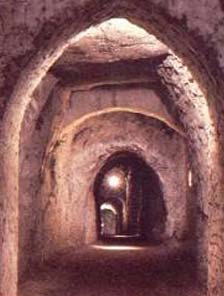 Underground Society
the caves beneath Medmenham Abbey.
Indeed, the decadent attitude of Dashwood and his 'monks' could be encapsulated in the phrase that was etched indelibly over the entrance to his disreputable abbey, and eventually became the club's motto and pervading life philosophy.
Fais ce que tu voudrais; do what thou wilt.
In the years before the Hellfire Club officially ended, in around 1766, many influential and notorious faces passed through its ranks; including Benjamin Franklin and the then Prince of Wales.
Testament indeed to the irresistible lure of vice as it wove its spell upon the upper classes - until the fatal publishing of a series of scandalous stories easily identifiable with the club and exposing its outrageous avocations brought the clandestine organisation to its knees.
Attempts by Dashwood's nephew, some twenty years later, were made to bring about the club's official revival, but it was already too late; with most of the 'monks' now dead or fled far away, the Hellfire Club was no more, at least above ground.
Still, it seems that scandal and corruption continue to cast a looming shadow over the influential even in the modern age; whether or not the club does still exist is only for the initiated to truly know.
Dashwood's legacy will continue to live on, so long as the will of the privileged can be moulded by greed and lust and the lure of depravity.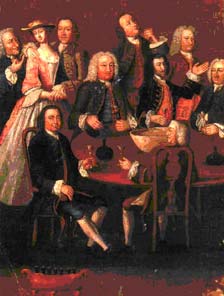 A Gathering of the Elite
The Hellfire Club by James Worsdale
(also pictured on the left)
National Gallery of Ireland.