200th Anniversary
1809 – 1849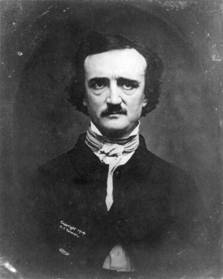 Deep into that darkness peering, long I stood there, wondering, fearing, doubting, dreaming dreams no mortal ever dared to dream before.
Hailed as the father of modern mystery, skilled weaver of the darkest gothic horrors and inarguably the foremost pioneer of detective fiction, Edgar Allan Poe continues to stand not only as a benchmark of the unearthly and macabre, but also as a catalyst for the deepest and direst fears of the human consciousness.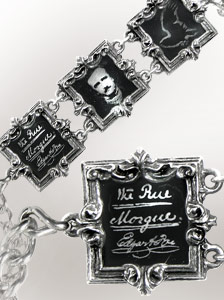 A75. Reflections of Poe bracelet:
The master and his greatest creation,
etched into black glass.
A life littered with tragedy even from his earliest years and the death of his parents, to a downward spiral of debt, alcohol and excess; inconsolable grief over the demise of Virginia Clemm – his wife and first cousin; and an eventual, miserable end in the gutters of Baltimore, it seems that Poe's legacy was always destined to be one shrouded in horror and uncertainty.
By capturing the dread of his own, personal demons of death, mourning, and even the afterlife in written word, he continues to effortlessly arrest the imaginations of readers over a hundred years after his most famous works first appeared in published form. It is not for his madness and debauchery that Alchemy wishes to remember Poe, but rather to celebrate the bicentenary of the birth of a man who not only helped to reshape literature, but through his iconic themes and imagery, allowed us to take a closer look at the most forbidden corners of our psyches.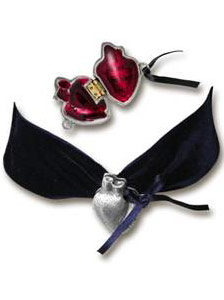 P538. The Tell-Tale Heart choker:
The treacherous heart, immortalised
in blood-red enamel.
The enduring impression of a pale-blue vulture's eye serves well enough to chill the bones and unsettle even the most solid of convictions. Taken from his grizzly short story, The Tell-Tale Heart, Poe certainly dipped into his more gruesome sensibilities; recounting the tale of an old man's murder as delivered by the demented executioner himself.
That clouded ocular held the source of all his madness, all compulsion driven to remove it and hide the elderly body beneath floorboards... until the incessant pound of the dead's still-beating heart tears out an enraged confession.
Here, as with many of Poe's gothic creations, captivation lies entwined with mystery; vague and disordered, steeped in itching paranoia and desperate guilt – the darkest shade of Edgar Allan Poe's perceptions and one that coloured his writing throughout the stretch of his tragically short life.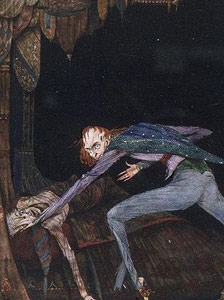 Illustration: The tell tale heart.
As claimed by Poe himself, the death of a beautiful woman was undoubtedly 'the most poetical topic in the world'; a perfect dichotomy of sorrow and ethereal beauty that could only ever be understood from the perspective of a bereaved lover. And with his most renowned poem, The Raven, this is exactly what Poe explored – the broken consciousness of a man and scholar whose thoughts are haunted by not only the ghost of the woman he loved, but the dreadful spectre of a black-winged bird that perched above his door, peering with its hellish eyes and speaking a singularly chilling word: Nevermore.
Taking his grim inspiration from the failing health of his wife, Virginia, who was herself dying of the tuberculosis that had consumed many of his family members, Poe poured his grief into what would become his most famous work.
"Open here I flung the shutter, when, with many a flirt and flutter,

In there stepped a stately Raven of the saintly days of yore.

Not the least obeisance made he; not a minute stopped or stayed he;

But, with mien of lord or lady, perched above my chamber door

Perched upon a bust of Pallas just above my chamber door"
Extract from The Raven EA Poe. Click for more.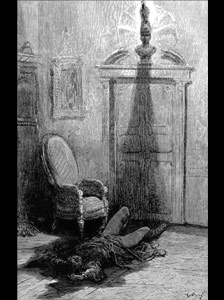 Illustration inspired by The Raven.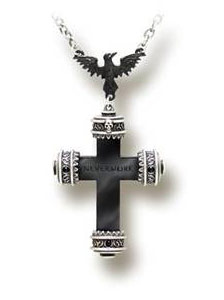 BTS418. Nevermore Cross pendant:
A harbinger of death and its
solitary, spoken word.
And yet, for all his loss, his continuous attempts at romance and the capacity of his talent, Poe died delirious and hopelessly in debt, having succumbed to drugs and alcoholism long before.
In a situation that would not have seemed out of place in the realms of his own, mysterious imagination, no records were ever kept of the circumstances behind the poet's downfall, but his legacy continues to live on through prose that has stood the test of time.
The gothic, the macabre, the fragility of life and what lies in wait beyond death will always be a source of fascination to the human mind. Something that Edgar Allan Poe understood all too well, and was unafraid to examine – making him an author of great importance and continuous, dark influence today.
To commemorate the 200th anniversary of the birth of one of history's finest and most intricate minds, Alchemy Gothic has gathered inspiration from Poe's anthology – immortalising iconic imagery from some of his most famous prose in a small series of mordantly beautiful adornments.
From the winged effigy of the Raven perched atop the Nevermore Cross and the doleful beckoning of the Raven's Call, ensnared by cord and ribbon; to the clouded and exanimate Vulture's Eye, or perhaps the still-beating Tell-Tale Heart, clasped against the wearer's throat by luxurious black velvet as a constant reminder of that dastardly crime, we hope to serve a fitting tribute to a true innovator of macabre sensibility whose legacy will continue to live on, eternally.