The items displayed below have been discontinued from the official Alchemy product range and as a result can no longer be supplied.
Alchemy Empire: Steampunk: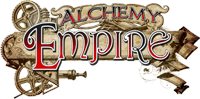 Alchemy 'Steampunk' designs revolve around Ezekiel Empire Rosenstein's, (or 'EER', Victorian 'descendant' to the original, 18th century Dr von Rosenstein), incredible Galvanic Matter Transposition System for 'pronto mass remotion' - the earliest known 'teleporter', or 'three-dimensional fax machine'! Known as the 'GMT', this sensational invention was sadly, completely lost to science. However, from a combination of surviving fragments, anecdotal evidence and recently-found early drawings, Alchemy Gothic have reconstructed several of the Rosenstein GMT's principle elements.
Alchemy Empire: Steampunk: Alchemy 'Steampunk' designs revolve around Ezekiel Empire Rosenstein's, (or 'EER', Victorian 'descendant' to the original, 18th century Dr von Rosenstein), incredible Galvanic Matter Transposition System for 'pronto mass remotion' - the earliest known 'teleporter', or 'three-dimensional fax machine'! Known as the 'GMT', this sensational invention was sadly, completely lost to science. However, from a combination of surviving fragments, anecdotal evidence and recently-found early drawings, Alchemy Gothic have reconstructed several of the Rosenstein GMT's principle elements.
- 1 - 2 - 3 - 4 - 5 - 6 - 7 - 8 - 9 -
TOP
cookies disabled
All content and designs are the copyright of The Alchemy Carta Limited. All images are copyright to their respective owners and are protected under international copyright law. It is not permitted to copy, download, or reproduce these images in any way whatsoever without prior written permission. 'ALCHEMY' and the 'SKULL & ROSE logo' are registered trademarks of The Alchemy Carta Limited. Registered in England No. 01492076 (Registered Office: St Mary's Mill, Unit 43, Faircharm Trading Estate, Evelyn Drive, Leicester, LE3 2BU.)