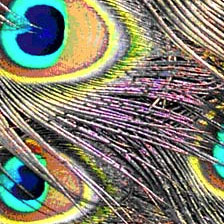 Pavonine: (Latin); bearing resemblance to the vivid colours and exquisite iridescence of a peacock's plumage.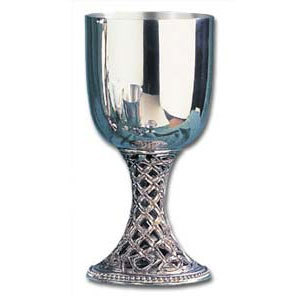 Oenghus: Also known as Aengus. The product of an illicit affair between Dagdha, chief of the Irish gods, and Boann, goddess of the rivers, Oenghus was concerned with affairs of the heart, and is considered the god of fatal love. Four birds always fluttered around his head, thought to represent kisses. He and the faerie maiden Caer lived together as swans after he proved himself and won her hand. After his foster son, Diarmuid Ua Duibhne, was slain by a boar, Oenghus breathed a new soul into the man.
Pictured:
AAG18 - Oenghus
A 6?" (155mm) high goblet, featuring a unique Celtic open knot-work stem.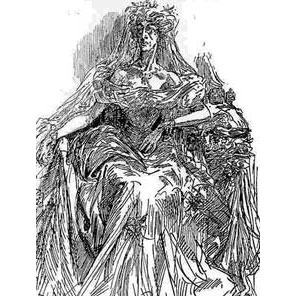 Miss Havisham: The aged spinster of Charles Dickens' beloved novel, Great Expectations. An eerily enduring depiction of the tragedy and heartbreak of jilted love, the almost skeletal Miss Havisham was betrothed to a man named Compeyson, who went on to leave her at the altar on their appointed wedding day.
Utterly disgraced, Miss Havisham stopped all the clocks in her house, leaving them on the exact minute of her betrayal. Even into her old age, she never removed her yellowing wedding dress, and left her wedding cake on the table to decompose. Her bitter nature was passed onto her ward, Estella, making her wary and cold towards men. Only after her wedding dress caught fire and she suffered severe burns did she find death and repentance for manipulating Estella's heart.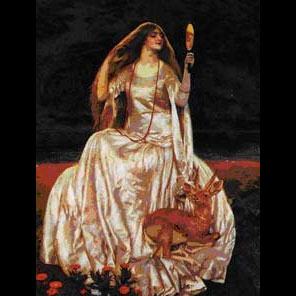 Nimue/Fairy of the Lake: Also known as Viviane or Nyneve, the Fairy (or Lady) of the Lake is best known for providing King Arthur with his famed sword, Excalibur, in ancient legend.
She is also thought to have raised Lancelot after the death of his parents, and to have enchanted and imprisoned the wizard Merlin in order to make him love her.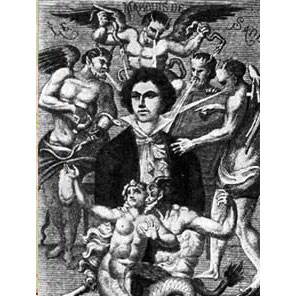 Marquis de Sade: Originally christened Donatien Alphonse François, the Marquis de Sade revelled in debauchery and his name even gave rise to the term 'sadism'. A French revolutionary, aristocrat and lover of the hedonistic lifestyle, de Sade wrote many short stories and plays, often violent, pornographic and outrageously blasphemous towards the Catholic Church.
He was renowned for employing prostitutes and then poisoning them, and for engaging his wife's sister in an affair. For thirty-two years of his life, the Marquis was imprisoned in various institutions and insane asylums throughout France, including the Bastille and the Conciergerie, before dying in 1814, shortly after the beginning of an affair with a thirteen year old girl. To this day, he is still known as one of the most notorious libertines to have lived.